Texas Style Sausage
5 lbs. – Individually Packaged in 1 Lb. Bags - For Crossbuck's Texas Style Sausage, our fine dining chef, turned famed pitmaster wanted to stray from the practice of using yesterday's scraps in the sausage to a recipe featuring Fresh, Natural ingredients.  He got rid of the gooey cheese, replaced the jalapeño with smoked poblano peppers and packed it all in an all-natural casing before smoking to perfection.
SKU:

UPC:

Availability:

Our items are perishable. We ship Mondays and Tuesdays and typically process orders within 1 business day.
Texas Style Smoked Sausage:
Texas BBQ may be famous for its sausage, but the old adage, "you don't want to know how the sausage is made" led our famed pitmasters Tim and Damian to create something a little different. Crossbuck's House Sausage is made from Fresh, Natural Ingredients…not yesterday's leftovers. Our guys started with a blend of fresh ground beef and pork, removed the gooey cheese and specified an all-natural casing - all of which give it a texture and flavor that is sure to become the new standard for Texas BBQ sausage.
Next, they replaced the spicy jalapeño with a fresh smoked poblano pepper that provides a sweeter, more approachable flavor without the excessive spicy heat. Finally, each sausage is Smoked with Love using Crossbuck's blend of post oak, hickory and fruit wood to give it a sweet, smoky flavor that is certain to delight
Includes
Each sausage weighs 1 lb. and is individually packed in a vacuum sealed bag that locks in the flavor.
Shipping Info
The vacuum sealed packages are wrapped in butcher paper, surrounded by ice packs and placed in boxes with insulated liners.

To avoid the risks of the meats sitting in a warehouse over the weekend, we ship Monday - Tuesday and can typically process orders within 1 business day.
Heating:
Note: Do not puncture or open vacuum sealed packaging. Meat will be heated in packaging.
Small: 1-2 lb. Packages
Preheat oven to 350 degrees

Put 1-2 packages in a baking dish (baking dish should be filled with 2 inches of water with packages)

Loosely cover with foil

Heat for 30-45 minutes or until an internal temperature of 165 degrees is reached

Remove from oven, uncover, and remove the bag (very carefully) from the pan

Allow the product to rest for 5 minutes*

Open Bag and Enjoy!
Storage:
Items need to go into either the fridge to thaw for consumption within 7 days or into the freezer for up to 9 months.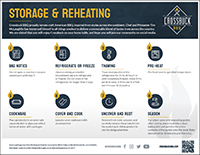 This was the hit of the football BBQ. Everyone wanted to know where they can buy it.

I grew up loving Texas style smoked sausage, but never realized how easy it would be to freeze and then heat up. Thanks Crossbuck.

I just got invited to Poker night with a new group of friends and was told to bring an appetizer. After looking at my wife... she told me it was not her party so I needed to be a big boy and figure it out on my own. So, I pulled the Crossbuck sausage pack out thawed it, baked it and cut it into bite-sized pieces. That was easy and "my sausage" was the highlight of the game.