Beef Brisket Candy™ (Burnt Ends) - 3 lbs. (1-lb. packs)
Individually Packaged in Convenient 1lb. Bags – Kansas City may be the home of burnt ends, but Texas is the brisket capital of the World.  So to honor KC, but with a Texas twist, Tim and his team of pitmasters created a one-of-a-kind burnt end which we affectionately call Brisket Candy™. 
SKU:

UPC:

Availability:

Our items are perishable. We ship Mondays and Tuesdays and typically process orders within 1 business day.

Gift wrapping:

Options available
Brisket Candy™ (Burnt Ends) - 3 1lb. Packs
Kansas City may be the birthplace of burnt ends and Arthur Bryant may be their king, but Tim felt that Texas needed its own version of burnt ends – especially given that Texas is the undisputed Brisket Capital of the World. Like Arthur Bryant, Tim starts his burnt ends by cutting off the top (somewhat fatty) of one of Crossbuck's Texas-style, low 'n slow smoked briskets with its crispy, "sugar-cookie" bark. He cubes this brisket ensuring each order gets plenty of pieces with that crispy crust.
Then, to give them that "Texas Twist," Tim tosses the cubes in a heavily sugared spice rub and Texas's own Shiner Bock beer before placing back into the smoker for further flavor enhancement.In the smoker, Tim's creation transforms into what we affectionately call "Brisket Candy" - the perfect mixture of an intense savory and an intense sweet at the same time…basically, a "flavor explosion" in your mouth.
Includes
(3) 1 lb. packs

Extra seasoning packet
Each package of Brisket Candy™ is individually packed in vacuum sealed bags that lock in flavor.
Shipping Info
The vacuum sealed packages are wrapped in butcher paper, surrounded by ice packs and placed in boxes with insulated liners.
To avoid the risks of the meats sitting in a warehouse over the weekend, we ship Monday - Tuesday and typically process orders within 1 business day.
Heating:
Note: Do not puncture or open vacuum sealed packaging. Meat will be heated in packaging.
Small: 1-2 lb. Packages
Preheat oven to 350 degrees

Put 1-2 packages in a baking dish (baking dish should be filled with 2 inches of water with packages)

Loosely cover with foil

Heat for 30-45 minutes or until an internal temperature of 165 degrees is reached

Remove from oven, uncover, and remove the bag (very carefully) from the pan

Allow the product to rest for 5 minutes

After resting for 5 minutes, place the meat into a clean baking dish.

Sprinkle the entire contents of the seasoning packet onto the meat.

Bake uncovered for 10 minutes.

Take out and let it rest for 10 minutes.

Now, it is ready to enjoy!
Storage:
Items need to go into either the fridge to thaw for consumption within 7 days or into the freezer for up to 9 months.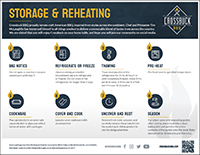 Wow, brisket candy at it's best!

Wow, just wow. This brisket candy is so unique and full of flavor. Great job Tim and team!

I had never even heard of burnt ends until my friend sent these to me as a gift. What an absolute treat! I can see why they call them "brisket candy," there is no way these are going to ever qualify as a health food.

Unique Product and Good Price

I went searching for burnt ends at my husband's request and stumbled across Crossbuck. A unique product PLUS a good price? Sign me UP! These exceeded my husbands expectations, and now I have a gift idea!

3 Stars - They are a little too fatty for me... although I was informed by the BBQ snobs at the table that they are supposed to be that way. Whatever, I'd opt for the lean brisket or ribs, they were both incredible.

These were such a hit... there were not leftovers. I need to order more next time.

I'm from Kansas City... the home of Burnt Ends so I was skeptical when a customer of mine sent these to me as a gift. Wow... they did not disappoint and since they come individually packed in smaller portions, I can now freeze them and have them anytime.

My husband loved these! Best gift ever. Thank you Crossbuck.

There is not a single restaurant near me that offers burnt ends so when I saw these I had to give them a try. They were awesome - nice and sweet with just the right amount of fat in them for me!

Convenient as can be. I had to bring an appetizer to a "Country and Western" themed party and I don't even own boots or a cowboy. Thankfully, this "Texas brisket candy" was the hit of the party.