Smokin' Appetizers: Smoked Sausage, "Brisket Candy" Burnt Ends, and Smoked Chicken Wings Texas BBQ Sampler
While they may be little, they sure are mighty. These bite sized beauties will have you begging for more. Our Smokin Apps platter includes our Crossbuck House Sausage, Burnt Ends, and our Smoked Chicken Wings.
SKU:

UPC:

Availability:

Our items are perishable. We ship Mondays and Tuesdays and typically process orders within 1 business day.

Gift wrapping:

Options available
Our Smokin' Appetizers Include...
Brisket Candy™ (Burnt Ends)
Kansas City may be the home of burnt ends, but Texas is the brisket capital of the World. So to honor KC, but with a Texas twist, Tim and his team of pitmasters created a one-of-a-kind burnt end which we affectionately call Brisket Candy™.
Smoked Wings
Crossbuck chicken wings are smoked for about an hour and half using our Texas-style low n' slow smoking techniques that produce a very tender wings with a smoky flavor and just a little "crisp." Available in four flavors.
Crossbuck House Sausage
For Crossbuck's Texas Style Sausage, our fine dining chef, turned famed pitmaster wanted to stray from the practice of using yesterday's scraps in the sausage to a recipe featuring Fresh, Natural ingredients. He got rid of the gooey cheese, replaced the jalapeño with smoked poblano peppers and packed it all in an all-natural casing before smoking to perfection.
In the Box
Brisket Candy™ (Burnt Ends): 1 lb

Smoked Wings: 24 Wings

Crossbuck House Sauage: 1 lb
Each product is individually packed in a vacuum sealed bag that locks in the flavor.
Shipping Info
The vacuum sealed packages are wrapped in butcher paper, surrounded by ice packs and placed in boxes with insulated liners.
To avoid the risks of the meats sitting in a warehouse over the weekend, we ship Monday - Tuesday and typically process orders within 1 business day.
Heating:
Note: Do not puncture or open vacuum sealed packaging. Meat will be heated in packaging.
Small: 1-2 lb. Packages
Preheat oven to 350 degrees

Put 1-2 packages in a baking dish (baking dish should be filled with 2 inches of water with packages)

Cover with foil

Heat for 30-45 minutes or until an internal temperature of 165 degrees is reached

Remove from oven, uncover, and remove the bag (very carefully) from the pan

Allow the product to rest for 5 minutes*

Open Bag and Enjoy!
*If product came with a seasoning packet, after resting for 5 minutes, place the meat into a clean baking dish. Pour the entire contents of the seasoning packet onto the meat. Bake uncovered for 10 minutes. Take out and let it rest for 10 minutes. Now, it is ready to enjoy.*
Storage:
Items need to go into either the fridge to thaw for consumption within 7 days or into the freezer for up to 9 months.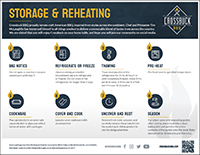 The absolute perfect item for my Craft Beer and BBQ party. I especially liked telling my crew that the brisket candy used Shiner Bock beer.