Texas-Style Smoked Chopped Brisket - 3 lbs. (1-lb. packs)
Individually Packaged in Convenient 1 lb. Bags – Our Famed Pitmaster builds on his 15 years of brisket smoking experience to deliver a smoked brisket with the perfect combination of tender, smoky flavor and a crisp "sugar cookie crust." No wrapping or steaming, Crossbuck brisket is cooked low n' slow for 12-18 hours over a blend of post oak, hickory and fruit wood for a truly Texas taste.
SKU:

UPC:

Availability:

Our items are perishable. We ship Mondays and Tuesdays and typically process orders within 1 business day.

Gift wrapping:

Options available
Texas-Style Smoked Chopped Brisket - 3 1lb. Packs
Gluten-Friendly
There is little debate that Brisket is the King of Texas BBQ and our Famed Pitmaster, Tim McLaughlin played a big role in bringing Central Texas style brisket to Dallas. Now, he has created an even better brisket, one with more flavor that truly reflects the Best of American BBQ.
Tim starts with big, 16 pound, Texas-sized briskets - wet aged for at least 45 days to aid in the tenderizing process. He takes these beautiful briskets, rubs them with Crossbuck's house-made, Guapo Rub and then lets them sit in the cooler tenderizing and absorbing the flavors for another 12-24 hours. These flavorful briskets are then placed in Crossbuck's custom-built smokers featuring its blend of post oak, hickory and fruit wood smoke that heightens the flavor of the brisket and brings out the sweetness in the rub…creating what many have referred to as a crisp "sugar cookie crust."
This crisp crust or "bark" is what truly sets Crossbuck's brisket apart from other briskets. We never wrap it or steam our briskets...so they maintain their crispy bark and get their flavor from the rendered fat, seasonings and smoke...not water. Basically, we smoke 'em how a Texas-style brisket should be smoked.
Includes
Chopped Brisket (3) 1 lb packs
All brisket is individually packed in vacuum sealed bags that lock in the flavor.
Shipping Info
The vacuum sealed packages are wrapped in butcher paper, surrounded by ice packs and placed in boxes with insulated liners.
To avoid the risks of the meats sitting in a warehouse over the weekend, we ship Monday - Tuesday and typically process orders within 1 business day.
Heating:
Note: Do not puncture or open vacuum sealed packaging. Meat will be heated in packaging.
Small: 1-2 lb. Packages
Preheat oven to 350 degrees

Put 1-2 packages in a baking dish (baking dish should be filled with 2 inches of water with packages)

Loosely cover with foil

Heat for 30-45 minutes or until an internal temperature of 165 degrees is reached

Remove from oven, uncover, and remove the bag (very carefully) from the pan

Allow the product to rest for 5 minutes*

Open Bag and Enjoy!
Storage:
Items need to go into either the fridge to thaw for consumption within 7 days or into the freezer for up to 9 months.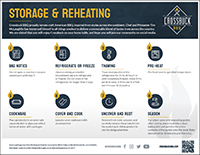 Loved the chopped brisket. Everyone loves my brisket nachos and I'm always being asked to bring them to parties, but I only need about a pound for my recipe. Not only was it convenient, but it tasted great.